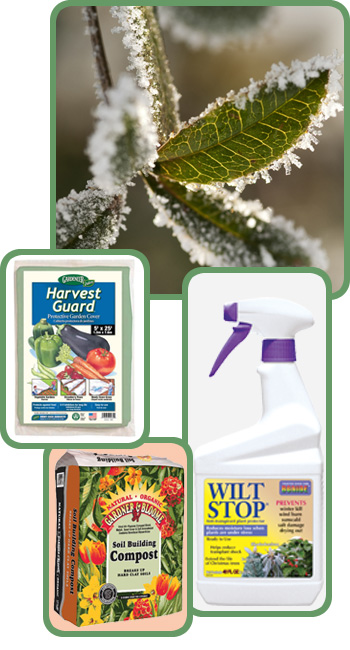 Jack Frost is out in full force, requiring special care for our early-flowering, broadleaf shrubs and other tender plants. There are several simple ways to protect your plants from his wicked bite and avoid damage from the freezing temperatures.
Here are our 5 Simple Suggestions:
1: Mulching
Mulching is one of the best ways to protect roots and grafts. In the late fall, apply two inches of Soil Building Compost to your landscape and flowerbeds. Be sure to keep the mulch 1 to 2" away from the trunk or stems, with the exception of roses and cane berries, where it can be put over the top of the crown.

2: Covering
Covering with Harvest Guard is the most effective way of protecting the foliage of broadleaf evergreen shrubs or early blooming shrubs.

3: Wilt -Stop
Applying Wilt-Stop spray prevents dehydration from wind and cold weather, protecting the plants from winter damage.

4: Moving
Consider bringing containers inside a garage or shed. If they cannot be moved, cluster them together and drape Harvest Guard over the top, or mulch around the pots.
5: Watering
The freezing cold weather tends to draw moisture out of the soil, as well as out of plant material. Be sure to water your plants - especially those in containers and under eaves.