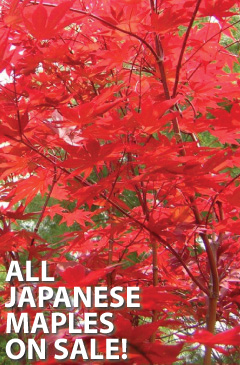 JAPANESE MAPLES
All Japanese Maples on Sale
Red and Green Laceleaf - 33 % off
Bloodgood, Red Ribbon Leaf, Twombly's Red Sentinel, Green Japanese Maple (Acer palmatum) - 50% off
All others - 25% off

TREES
Select Deciduous Trees - 33% off
Flowering Cherries, Ornamental flowering plums, Dogwoods, Redbuds, Flowering Crabapples, Stewartia, Silk Tree, Magnolia, Styrax, Golden Chain Tree, Zelkova, Katsura, Parrotia, Weeping Pussy Willow

CONIFERS
All Slender Hinoki - 50% off

GROUNDCOVERS
Cotoneaster: Coral Beauty, Eichholz and Dammeri, 1 gal. - 50% off
Vinca, 1 gal. - 50% off
Offers expire 11/30/14, unless otherwise noted or while supplies last. Availability and price subject to change. We recommend you call ahead for availability on sale items.