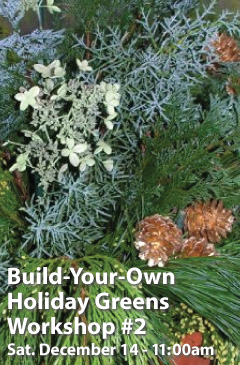 DECEMBER
[Print December Events Flyer]
What to Do in the Garden in December
Sat. December 7, 2013 – 11:00 a.m.
Our monthly seminar on what should be done in the landscape and garden. This month we welcome the official start of winter! December is the time to prune conifers, using the cut greens for decoration or mulch. It's also a good time to test the germination of your seed collection and more. Bring pictures and samples for our experts to look at during the Q & A portion. This is a regular seminar on the first Saturday of every month, so remember to put us on your calendar.
REGISTER ON-LINE>>
Build-Your-Own Holiday Greens Workshop #2
Sat. December 14, 2013 – 11:00 a.m.
The holiday season is fully upon us! Only 11 more days until Christmas and chances are you've already begun to celebrate. We're offering a second Holiday Greens Workshop in case you missed the one in November. Lisa will guide you through the process of creating your own masterpiece out of the freshest holiday greens and boughs. You'll take home a beautiful holiday decoration to grace your own home or give as a gift. This class is a great one for beginners and the experienced alike. Don't forget your pruners, gloves and a warm jacket! Cost: $35 per participant. Fee includes supplies and evergreen boughs for building a holiday piece you'll take home with you.
REGISTER ON-LINE>>

NO SEMINAR December 21st or 28th.
Tsugawa Nursery wishes you and your family a joyous, wonder-filled Christmas and holiday season!



*Seating is limited. Please register ahead online or calL (360) 225-8750. Most classes are 1-2 hours long and are FREE unless otherwise noted. Please check our website and email for updates. New classes will be posted as they are scheduled.