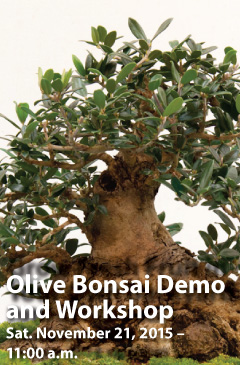 NOVEMBER
[Print November Events Flyer]

Olive Bonsai Demo and Workshop
Sat. November 21, 2015 – 11:00 a.m. Demo & 12:00 p.m.
Hands-on Workshop
This month we are changing up our Bonsai! class to focus on the olive bonsai. These longliving Mediterranean beauties have unique gnarled and twisted trunks and silvery evergreen foliage that add such character to your indoor or outdoor décor. We will start at 11:00 a.m. with an informative demo on potting, trimming and wiring an olive bonsai. At noon we will start the hands-on workshop for those that would like to create their own. Demonstration is free. Workshop cost is dependent on the materials chosen.*
REGISTER ON-LINE>>


*Seating is limited. Please register ahead online or call
(360) 225-8750. Most classes are 1-2 hours long and are FREE unless otherwise noted. Please check our website and email for updates. New classes will be posted as they are scheduled.