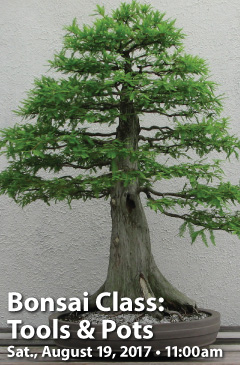 AUGUST

Bonsai Class: Tools & Pots
Saturday, August 19, 2017 - 11:00am
In August we will focus on tools and pots used in bonsai: What differentiates tools used in bonsai from standard gardening tools, and what tool is appropriate for each job we do. We will also talk about pottery used in bonsai. We will discuss how size, shape and color plays into the overall effect and image of our trees. As always people are encouraged to bring trees they are working on and members of the group will work together to answer any questions and offer input and advice. We will discuss what to look for in selecting nursery material to work with. People at all levels of experience are welcome at our group. We will always try to make our groups helpful to beginners and more advanced practitioners alike.
A fee for materials may be added. Call us for more information.
REGISTER ON-LINE>>

SEPTEMBER

Bonsai Class: Topic TBA
Saturday, September 16, 2017 - 11:00am
Join us and learn about this fun, relaxing and artistic hobby. All levels are invited. We look forward to seeing you! A fee for materials may be added once topic is determined. Call us for more information.
REGISTER ON-LINE>>




*Seating is limited. Please register ahead online or call
(360) 225-8750. Most classes are 1-2 hours long and are FREE unless otherwise noted. Please check our website and email for updates. New classes will be posted as they are scheduled.