Tsugawa Nursery
$10 Gift Card
Price: $10.00
Tsugawa Nursery
$20 Gift Card
Price: $20.00
Tsugawa Nursery
$25 Gift Card
Price: $25.00
Tsugawa Nursery
$30 Gift Card
Price: $30.00
Tsugawa Nursery
$40 Gift Card
Price: $40.00
Tsugawa Nursery
$50 Gift Card
Price: $50.00
Tsugawa Nursery
$75 Gift Card
Price: $75.00
Tsugawa Nursery
$100 Gift Card
Price: $100.00
Tsugawa Nursery
$150 Gift Card
Price: $150.00
Tsugawa Nursery
$200 Gift Card
Price: $200.00
Tsugawa Nursery
$250 Gift Card
Price: $250.00
Tsugawa Nursery
Gift Card
Other Amount
Enter the quantity and value of your gift certificate, in dollars and cents, for example: 32.50
DO NOT INCLUDE
"$" IN AMOUNT

Tsugawa Nursery Gift Cards make the perfect gift for the garden, water garden, bonsai or horticultural enthusiast in your life!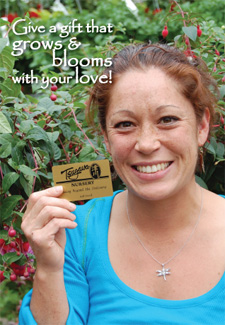 Order your Tsugawa Nursery Gift Cards here, through our secure online shopping cart. Select one denomination, enter a quantity and click "add to cart." Gift Cards in denominations not listed below can be ordered at the bottom of the page. You will be given the option to return to this page if you wish to add additional certificates. If you are shipping to more than one location you will need to create separate orders.
Payment may be made by credit card only. We accept Visa, Mastercard and Discover. We offer FREE SHIPPING on Gift Cards!
Orders will be mailed within 3-5 business days of placing the order and will be sent via USPS First Class Mail. Please allow time for post office delivery.
If you have questions or need assistance placing your order, please give us a call: (360)225-8750