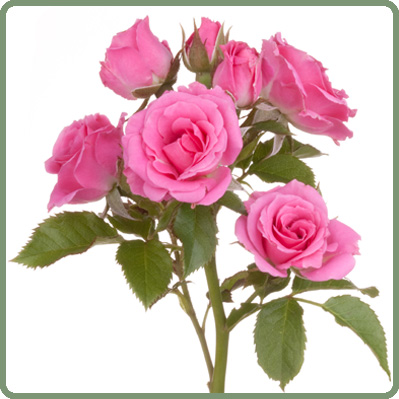 "My love is like a red, red Rose, that's newly sprung in June." -- poet Robert Burns

Throughout history, roses, especially red roses, have been used to express love.  In countless works of art, from poetry to classical paintings, music and religious symbols, this instantly recognizable flower has become the international symbol of romance.  The ancient Greek and Roman goddesses of love, Aphrodite and Venus were associated with the rose.  The long, storied history of the red rose has given it a significance and meaning that no other flower possesses.
 
Today, roses continue to be the most popular way to express your feelings to someone you love, or express interest in someone you'd like to know.  But have you ever noticed that the names of roses also tell a story?  With Valentine's Day just around the corner, these fragrant flowers can help you express yourself in a way that few other gifts can.
Roses are the perfect symbol of love because they represent all things sensual, sacred, pure and romantic.  They even possess names that express romance.  You can tell someone that they Intrigue you.  Or, they make you feel like you are Walking on Sunshine.  Perhaps the thought of them sends you Over the Moon, and you are Falling in Love, and just knowing them has made your Dream Come True.  Think of the stories you can create in your landscape!
In addition to their romantic names, the color of a rose also sends a message.  Tell someone "I love you" with red roses, or express "eternal love" with white roses. A pink rose conveys "perfect happiness" while a yellow rose symbolizes "friendship" and a rose that is red and white signals "togetherness and unity." The lavender rose is a perfect symbol of enchantment, a way to express feelings of "love at first sight."
Roses are not the only flowers that have meaning. The Victorians used flowers as a symbol to express their feelings. Here are some other plants that can help you express an emotion, create a scene, or tell a story.
Daffodils - respect
Fern - sincerity
Forsythia - anticipation
Gardenia - you're lovely, secret love
Lavender - devotion
Pansy - thought, love
Peach - longevity
Primrose - I can't live without you
Flowers really are a romantic way to express our emotions.  Just think about how much fun you can have in creating a story and making your loved one feel All a'Twitter!

Here at Tsugawa Nursery, we have a special appreciation for flowers, because we're around them every day!  If you have a story to tell, or an emotion you'd like to convey, come in and chat with us.  We'll help you find the perfect plant to tell that special someone just how you feel.